She is clothed with strength and dignity; she can laugh at the days to come.
At Redemption City, we believe it's important for women to gather regularly with other women. Our desire is to see women grow in the Word and fellowship with each other, but to do this more effectively, we want to see more groups gathering in more places. We have several women's groups that meet at various times and locations throughout the area. For information on women's groups, email ashley@redemptioncity.com.
Get Connected. Go Deeper.
This will be a relaxed time to connect with other women and hear from Scarlet Hiltibidal (author of Afraid of All the Things) about how to hold the Gospel up to our fears. So, if you've been at RCC for 5 years or 5 minutes, if you're 23, 93, or somewhere in between, this is for you!
__________________
Dinner will be provided, and we'll have some gluten free and dairy free options available.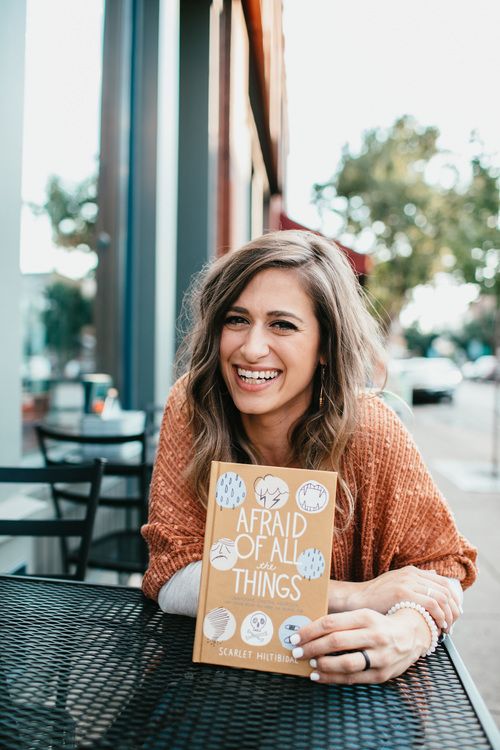 Growing up in the green room of SNL, being born to a fire-eater and adopted by a SWAT cop, having internal organs explode, and adopting a Deaf girl from China, Scarlet Hiltibidal has been given some strange life experiences -- and lived in fear through most of them. But life changed for Scarlet when she learned to hold the gospel up to her fears.She realized that though she can't fix herself or protect herself, Jesus walked into this broken, sad, scary place to rescue, love, and cast out her-- and your-- fear. Scarlet loves telling people about this freedom and rest she's found in the gospel.
Happy New Year! As we've said goodbye to 2019, and begin 2020, I wanted to share an excerpt from an article at Desiring God that I've already come back to several times in 2020. I hope it encourages you as much as it has me!

"As we sit on the edge of a new year, we are hemmed in by the faithfulness of God. Behind us are his wondrous deeds. Before us are his merciful plans. Both of them are marvelous and more than can be told. With such a God behind us and before us, we need not allow the past to swallow us, nor the future to worry us. The past and the future belong to him — and most importantly, so do we."
_______
With that in mind, as we pray about and plan growth for this year, we want to encourage and challenge everyone to grow with a group (whether a Group for All, Men's/Women's Group, or both). This semester, we have 4 great women's groups beginning the week of January 19! Groups are between 6-10 weeks in length (noted next to each below).

All groups are open to all women! Click here (and scroll down) for more information (meeting dates, details about each group, signup link, etc.)!
Tuesdays, 6:30-8PM | 1, 2, 3 John
Led by Trillia Newbell
Just bring your Bible!
General study breakdown and questions will be provided.
_____
Meeting dates: 2/4-3/31. No group March 17.
Wednesdays, 6:30-8PM | Character of God in Judges
Led by Catherine Parks and Palmer Williams.
Just bring your Bible!
General study breakdown and questions will be provided. We are determining need and interest for child care for this group; if that would be helpful to you, please indicate that on the sign up link!
_____
Meeting Dates: 1/29 - 4/8. No group 3/18.
Thursdays, 9:30-11AM | Prayer Group
Led by Linda Bachtell and Sharon Coppenger
Confidential, intercessory prayer for the RCC family including requests from Connect Cards, prayers for members, students, kids, singles, etc. by name, prayers for staff, etc.
_____
Meeting Dates: Thursdays weekly, ongoing
Fridays, 9:30-11AM | Risen Motherhood: Gospel Hope for Everyday MomentsLed by Kaci Metzger.
Just bring a copy of the Risen Motherhood book.
Click here
to purchase on Amazon. We do not want cost to prohibit anyone from joining a group. If this is the case for you, please email
Ashley
, and we will confidentially work it out!
_____
Meeting Dates: 1/24 - 3/27. No group on 3/20.
Child care is provided.